What Are The Aging Issues?
As we age, the natural and biological processes of the body cause changes on the surface of the skin in the form of aging issues like wrinkles, folds, fine lines, laugh lines, sagging skin, etc.

Some extrinsic, as well as intrinsic factors, lead to ageing. These factors may include changes at the genetic level or influence of environment or external catalysts that accelerate the natural process of ageing. Our skin begins to look tired, dehydrated, saggy, dull, full of lines or deep burrows that make one appear aged.

What Causes Aging?

Primary factors are involved in triggering ageing related issues whereas secondary factors are responsible for accelerating aging.

Primary causes behind aging include –
• Sun Exposure – Chronic exposure to UV light causes structural instability by causing the breakdown of elastin and collagen fibres inside our skin. It results in the appearance of age spots, wrinkles, fine lines and other signs of premature aging.

• Smoking – Smoking accelerates the aging process and causes premature wrinkles. Tobacco can quicken the natural process of ageing by triggering skin degeneration. Smoking can cause an accumulation of free radicals in the skin, which can damage it and delay its healing mechanisms. It can decrease the capillary blood flow to the skin thus depriving it from oxygen and essential nutrients

• Dehydration – As we age, our skin loses its ability to retain water. If our skin stays dehydrated, it dries out and eventually develops fine lines or wrinkles.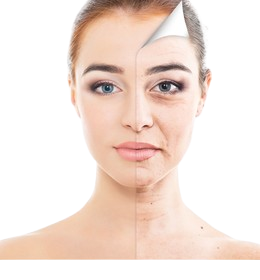 Secondary factors that trigger aging include –
• Alcohol Consumption – Excessive intake of alcohol causes nutritional deficiencies and dries out the skin leading to premature ageing.

• High-Stress Levels – Prolonged stress can wreak havoc on your skin especially on the face leading to wrinkles, folds or fine lines.

Anti-Aging Skin Treatment @ S MWELLNESS

• Fractional Micro needling Radio Frequency

• Chemical Peels

• Laser Resurfacing

• Laser Toning